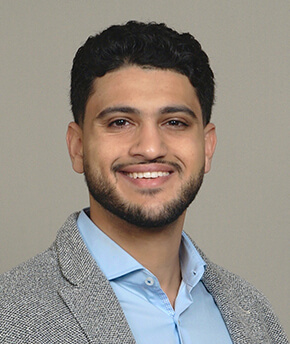 Dr. Munir Gomaa
Dr. Munir Gomaa is a general dentist who was born and raised in the suburbs of Chicago. He graduated from the University of Chicago in 2013, where he earned a Bachelor's degree in Psychology. He then went on to obtain his Doctor of Dental Medicine degree from Southern Illinois University in 2017. He is an active member of the American Dental Association, Illinois State Dental Society, and Chicago Dental Society. Dr. Gomaa practices comprehensive dentistry, and is dedicated to providing patients of all ages with high quality dental care. His priority is to deliver patient-centered treatment with a strong focus on preventative dentistry. He understands that many people experience fear and anxiety towards dental care, and is committed to helping these patients overcome these feelings and receive the care they need to enjoy a healthy lifestyle. He believes in educating patients as an important part of treatment to ensure they understand how to restore and maintain a healthy smile. He is passionate about lifelong learning, and regularly participates in continuing education to stay current on the dynamic field of dentistry. In his free time, he enjoys hiking, drumming, and spending quality time with his family and friends.
Dr. Gomaa is available at our:
Schaumburg, IL Dental Office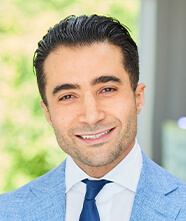 Dr.
Faisel Ashtewi
Dr. Ashtewi is a graduate of University of Detroit Mercy at Detroit Michigan where he has earned his Doctor of Dental Surgery (DDS). Dr. Ashtewi finished a three years residency program at Goldman School of Dental Medicine at Boston University, Boston, Massecuite, where he earned his (CAGS) as a Prosthodontist, and he got his Master Degree in Biomaterial (MSD). Dr. Ashtewi has been a prosthodontist since 2013.
Dr. Ashtewi is an avid participant in continuing dental education and is always researching the newest information on ways to improve your oral health care.  He also works as a clinical instructor in University of Illinois Chicago (UIC), school of Dentistry. Dr. Ashtewi also worked as a clinical instructor in University of Detroit mercy Dental school for two and half years too before moving to Chicago.
Patients of Dr. Ashtewi are fortunate to receive state-of-the-art dental care. Dr. Ashtewi provides quality dentistry for his patients, caring for every single patient. Providing the most advanced dental care in a comfortable and pleasant atmosphere are the priorities of Faisel Ashtewi.  Dr. Ashtewi is among the most accomplished and regarded Prosthodontist in Chicago and Illinois area.  He is diligent in his pursuit to stay current in providing the profession's leading dental care procedures while utilizing state-of-the-art technology, supplies and equipment. Dr. Ashtewi is fully committed to his patients' smiles, and that means keeping his mind and skills sharp! It is his firm belief that to be the best in the dental industry, you have to take a lifelong approach to learning and education.
Dr. Ashtewi is a member of the American Dental Association, American College of Prosthodontics, American Academy of Fixed Prosthodontics, Chicago Dental Society, Academy of Osseointegration (AO).
Dr. Ashtewi in his free time enjoys all outdoor activities. He loves working out, hiking, biking, snowboarding. He is a foodie person; he enjoys trying new restaurants and cuisines. He also enjoys traveling and exploring new cities, countries and cultures.
Dr. Ashtewi is available at our: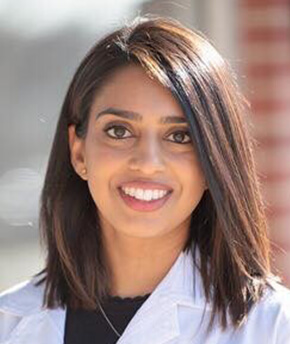 Dr. Avani Patel
Partner
Dr. Avani Patel is passionate about forming connections with her patients and helping them develop a great smile and build confidence. Dr. Patel was born and raised in California. She obtained her Bachelors of Dental Surgery (BDS) and began her dream of being able to make a difference by making smiles brighter! She continued on to receive her Doctorate in Dental Medicine fromTufts University School of Dental Medicine in Boston, Massachusetts in 2014.
With over 7 years of experience in private practice she practices the full scope of General Dentistry with a special interest in the restorative phase of implant and cosmetic dentistry. She is Invisalign Certified, is able to administer cosmetic injectables, and perform oral conscious sedation for patient's comfort. Dr. Patel is affiliated with several prestigious dental organizations, The Chicago Dental Society and the American Dental Association. Dr. Patel is also an active member of Spear Education and Cerec Doctors and is a firm believer in continuing education and performing comprehensive treatment using the latest technology.
Dr. Patel is happily married to her husband, Nilesh, and is excited to be a new mom. She loves the outdoors, enjoys traveling, and spending time with her friends and family.
Dr. Patel is available at our: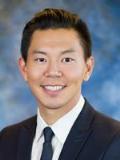 Dr. John Hur, DMD, MD
Oral Surgeon
Dr. John Hur is a board eligible dual-degree trained Oral and Maxillofacial Surgeon. He completed his undergraduate studies at the University of Illinois at Urbana-Champaign where he graduated with honors, earning his bachelors of arts in Molecular and Cellular Biology. He continued his studies at the University of California, San Francisco School of Dentistry where he graduated among the top of his class. During his time at UCSF, he was involved in nationally recognized projects in the field of craniofacial development. Through these academic pursuits, he developed a profound interest in medicine and surgery. Dr. Hur continued his post-doctoral work in New York, where he received his medical degree from Columbia University College of Physicians and Surgeons. He then completed a competitive Oral and Maxillofacial Surgery residency at Columbia University Medical Center/New York Presbyterian Hospital, which was ranked as the #1 hospital in the New York Metropolitan area and #6 hospital nationally by the 2014-15 U.S News and World Report. His training involved a fully integrated General Surgery preliminary internship with focused rotations in plastic/reconstructive surgery, trauma, anesthesia and maxillofacial oncologic surgery. He then concluded his training at NYP Hospital where he completed his intensive full scope oral and maxillofacial surgery training with an emphasis on CT guided corrective jaw surgery.
Dr. Hur's current practice reflects a foundation in full-scope training with an emphasis on orthognathic surgery (corrective jaw surgery) and complex dental implant surgery that utilizes CT guided skeletal mapping and surgical protocols. His other services include third molar surgery (wisdom tooth extractions), dentoalveolar surgery, pathology, facial trauma and temporomandibular joint disorders.
Dr. Hur is available at our: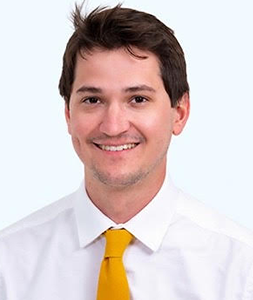 Dr. Andrew Garcia
Dr. Andrew Garcia is a skilled dentist who completed his education at Midwestern University, specializing in dental care. With a genuine passion for helping others, Dr. Garcia is dedicated to providing top-notch dental services and addressing any questions or concerns you may have.
Outside of his dental practice, Dr. Garcia enjoys engaging in various outdoor activities. He loves the thrill of kayaking, the exhilaration of skiing down snowy slopes, and the tranquility of snorkeling amidst vibrant marine life. These hobbies not only keep him active but also allow him to appreciate the wonders of nature.
Dr. Garcia is known for his versatility and willingness to learn new things. Consider him a "jack of all trades" who enjoys expanding his knowledge and skills in different areas. From tackling household repairs to exploring new hobbies, he approaches each endeavor with enthusiasm and a desire to grow.
Adding a touch of uniqueness to his life, Dr. Garcia is the proud owner of a pet snake named Otto. Otto, a Mexican black kingsnake, has become a fascinating companion, bringing an element of curiosity and interest to Dr. Garcia's daily routine. Beyond his professional commitments, Dr. Garcia has a supportive partner, Rosalyn, who is also a dentist. Together, they share a common passion for dental health and strive to make a positive impact on their patients' lives.
Dr. Andrew Garcia's commitment to dental care, his love for outdoor adventures, his versatile nature, and his charming pet snake reflect his well-rounded personality. When you visit his office, you can trust that he will not only take care of your dental needs but also make you feel comfortable and supported throughout your dental journey.
Dr. Garcia is available at our:
Palatine, IL Dental Office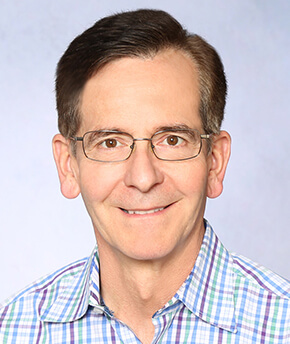 Dr. Robert A Uhland
Orthodontist
Dr. Robert A. Uhland completed his orthodontic research internship program from the Mayo Clinic. He went on to receive his doctor of dental surgery degree from University of Texas Orthodontic training and certification from Loyola University School of Dentistry. Dr. Uhand is one of a select group of orthodontists to become board certified by American Board of Orthodontists.
Dr. Uhland has over 25 years of experience in private practice. Dr. Uhland is a highly capable practitioner who is compassionate when dealing with fears and concerns of their patients. He stands committed to the highest level of oral health as a foundation to create a lifetime of beautiful smiles. Dr. Uhland enjoys spending time with his family and participating in his many memberships when he is not at the office.
His memberships include: American Association of Orthodontists Committee member for Chicago Dental Society,American Dental Association Member, Illinois Dental Certified American Board of Orthodontics Member, American Association of Orthodontists Committee member for Chicago Dental Society, American Dental Association Member Illinois Dental Society, and The Northbrook Civic Foundation and other community organizations member.
Dr. Uhland is available at our: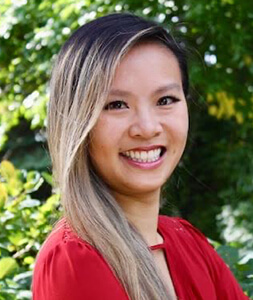 Dr. Samantha Wong
Dr. Samantha Wong was born and raised in Bartlett, IL, and attended the University of Wisconsin – Madison, where she received her Bachelor's degree in Microbiology. During her time at UW-Madison, she discovered her passion for caring for people and helping them gain a beautiful, healthy smile again. Thus, she continued her journey by obtaining a Doctorate of Dental Medicine at the University of Illinois – Chicago and then receiving her Advanced Education in General Dentistry certificate at the Clement J Zablocki Milwaukee VA Hospital.
Dr. Wong strives to provide her patients with the highest quality of care using the most up-to-date techniques; while also ensuring a comfortable and relaxing environment. She is committed to working with patients to help them achieve their perfect smile with treatment that will last them years to come. Dr. Wong is an avid learner and continues to grow as a dental provider through continuing education courses and being a part of organizations such as the American Dental Association, Academy of General Dentistry, Chicago Dental Society, and Illinois Academy of General Dentistry.
In her free time, Dr. Wong enjoys spending time with her family and friends by cooking/eating, playing board games, and/or being outside enjoying the weather. Her favorite artist is Taylor Swift and hopes to one day be the next Top Chef. She loves traveling, meeting new people, and continually growing her life's bucket list!
Dr. Wong is available at our:
Elgin, IL Dental Office
Schaumburg, IL Dental Office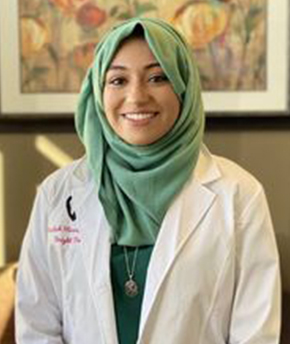 Dr. Muzzafer
Dr. Muzzafer hails from the picturesque Appalachian mountains, where she spent her childhood in the small town of Bluefield on the Virginia-West Virginia state line. Dr. Muzzafer graduated Summa Cum Laude with a B.S in Biology and minors in Chemistry and History with Honors in 2017 from Bluefield College. Since then, she has accomplished several significant milestones, including graduating from West Virginia University School of Dentistry, getting married, relocating to Chicagoland, and starting a new job.
Dr. Muzzafer is passionate about her profession and performs a wide range of dental procedures, including extractions, root canals, crowns, veneers, and Invisalign treatments. As a dedicated practitioner, she is pursuing an FAGD and is actively involved in the Academy of General Dentistry to stay abreast of the latest techniques and procedures. She is also a proud member of the American Dental Association, Chicago Muslim Dental Society, and Chicago Dental Society.
Aside from her dental work, Dr. Muzzafer enjoys hiking, playing tennis, baking, traveling, and spending quality time with loved ones. Her fluency in Urdu is an added advantage in her ability to communicate effectively with a diverse group of patients. Dr. Muzzafer looks forward to welcoming you to your next dental appointment with enthusiasm. She is committed to providing personalized care and ensuring that you feel comfortable throughout your visit. With her expertise and dedication, you can trust that you're in good hands for all your dental needs.
Dr. Muzzafer is available at our: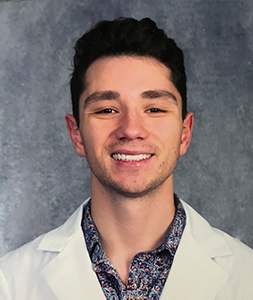 Dr. Larocca
Growing up in New York, Dr. Larocca developed a passion for exploring the great outdoors and can often be found hiking in the nearby mountains. He also enjoys cooking and experimenting with new recipes in his spare time, as well as attending car shows and admiring classic cars.
Dr. Larocca is known for his patient-centric approach to dentistry, and he takes great pride in building strong relationships with his patients. He believes that every patient deserves personalized care and attention, and he works hard to ensure that each patient feels comfortable and confident in his care.
With a focus on preventive care and patient education, Dr. Larocca is committed to helping his patients achieve and maintain optimal oral health. He offers a wide range of dental services, including routine cleanings, fillings, crowns, and cosmetic procedures, and he uses the latest technology and techniques to ensure the best possible outcomes for his patients.
Whether you're in need of a routine check-up or more complex dental treatment, Dr. Larocca is here to help. With his friendly demeanor, expert skills, and patient-centered approach, he is dedicated to providing the highest quality dental care to patients of all ages.
Dr. Larocca is available at our: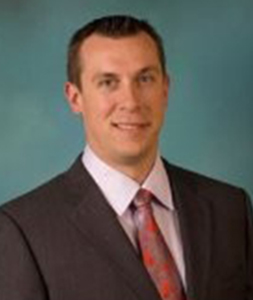 Dr. Pawluk
Endodontist
John W. Pawluk, DDS, Director of Endodontic Associates of Illinois, offers an impressive record of success in providing endodontic treatments to thousands of patients who consistently praise him for his professionalism and compassion.
Dr. Pawluk is a native of Queens, New York, where he graduated from the esteemed Bronx High School of Science. He earned both his B.S. in Biology and his dental degree from the University of Michigan in Ann Arbor, graduating with honors. During his university tenure, Dr. Pawluk received numerous awards for both his clinical work and his teaching skills. He was honored with the distinguished American Association of Endodontists Student Achievement Award in Endodontics and the University of Michigan Comprehensive Care Award. He was also inducted in the Honor Dental Society, Omicron Kappa Upsilon.
Dr. Pawluk completed his postgraduate Microsurgical Endodontic specialty training at the University of Medicine and Dentistry of New Jersey. He also served as Chief Resident and Instructor, teaching dental students clinical endodontics. He practiced on the East Coast for several years before his love of the Midwestern way of life drew him back to Chicago.
He is the co-author of several publications in endodontics and has served as an instructor for Dentsply Tulsa Dental Specialties.
Dr. Pawluk is available at our:
The High Point Story
High Point Dentistry was founded in 2009 by Dr. Vu Kong, a third-generation dentist, and graduate of the University of Detroit Mercy School of Dentistry. Dr. Kong's family escaped the war-torn country of Cambodia, and he was born in a refugee camp in Thailand. They were fortunate enough to be sponsored by a Catholic church to come to the United States, where Dr. Kong pursued his passion for dentistry.
With a vision to create a patient-centric dental practice that prioritizes the comfort and satisfaction of patients, High Point Dentistry has now expanded to six dental offices across two states, providing comprehensive dental services that are privately and doctor-owned. Our offices are the top-rated dental offices in their respective area with over 2500+ 5-star Google reviews. High Point Dentistry is committed to ethical and compassionate patient care and has helped build a loyal following of patients who are treated like family.
At High Point Dentistry, our core values are Honesty, Integrity, Transparency, Growth, and Alignment. We are focused on staying up-to-date with the latest advancements in the dental field and providing the highest quality care to our patients. We hope to see you at your next visit and welcome you to join the High Point Dentistry family!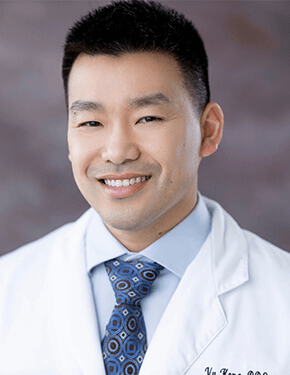 Dr. Vu Kong, CEO & Owner
Dr. Kong is a third-generation dentist. Blending the analytical mindset of his Mechanical Engineering background from Michigan State University with his dental degree from the University of Detroit Mercy School of Dentistry—Dr. Kong is changing the way people feel about dentistry. He aims for excellence with a touch of warmth and humor.
Driven by a philosophy of patient-centered care, Dr. Kong ensures that everyone who walks through his doors feels like family. Upholding the highest standards of moral and ethical values, he remains steadfast in recommending only necessary treatments, and prioritizing the health of his patients.
A proponent of continuous professional growth, Dr. Kong invests significantly in attending a myriad of courses across the country. He finds particular satisfaction in the transformative results of treatments like Invisalign® and Dental Implants – seeing his patients rediscover their smiles is a reward in itself.
Outside of his practice, Dr. Kong's life orbits around his cherished wife and two daughters. A lover of travel and quality family time, he brings the same dedication to his personal life as he does to his profession. Conversations with him might occasionally shift to Cantonese or be peppered with his subtle sense of humor.
Under Dr. Kong's guidance, the practice stands as a beacon of innovative, compassionate, and advanced dentistry. He strives to create an environment where patient well-being takes center stage, and dentistry is both an art and a science.