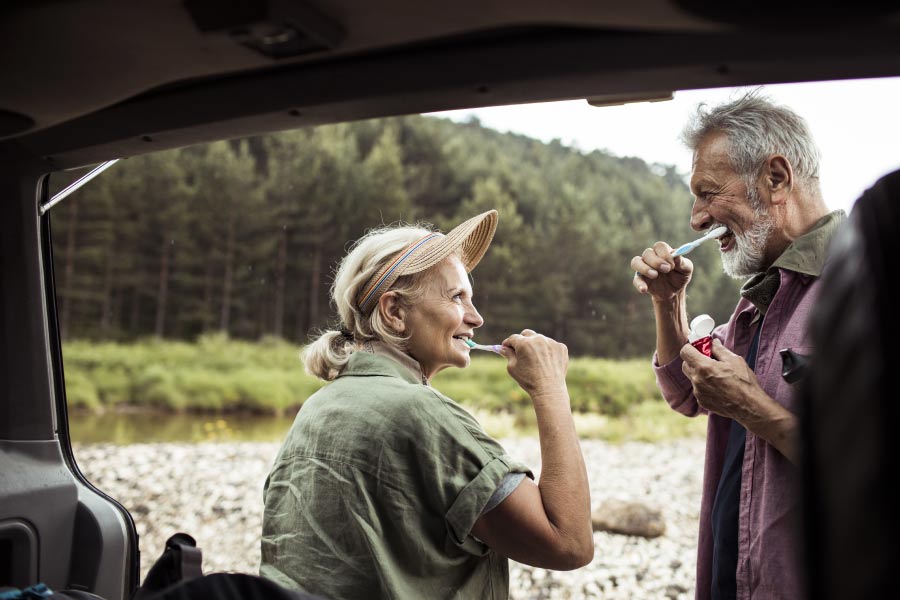 Summertime is here, which means road trips, camping excursions, and family vacations. While summer is the perfect time to relax and enjoy your travels, be sure not to let your dental hygiene fall to the wayside. Here are some pointers for maintaining your oral health while traveling.
Pack Your Oral Hygiene Essentials
Before hitting the road, double check that you've packed everything you need to keep up with your oral hygiene routine. This includes your toothbrush and toothpaste of course, but also be sure to grab floss, mouthwash, and your nightguard or retainer if you wear one.
Stick to Your Routine
Even if your trip is only a few days long, you'll want to maintain healthy habits to keep your smile in good shape. As tempting as it can be to hit the sack after a long day of exploring a new place or splashing around in the pool, take the time to brush and floss before heading to bed, your teeth will thank you!
Stay Hydrated
No matter where you're off to, staying hydrated is key to your oral health and overall well-being. Drink plenty of water throughout the day to wash away food particles, stimulate saliva production, and reduce bad breath.
Limit Sugary Snacks
Nothing says summertime like popsicles and ice cream cones but keep your teeth in mind before you overindulge in sweet treats. Sugar can foster harmful bacteria in your mouth that can lead to cavities and tooth decay. We're not saying you have to skip them altogether but enjoy your summer sweets in moderation and try to mix in healthy fruits and veggies when you can.
Schedule a Dental Check-Up Before You Go
If you haven't been to our office for a check-up and cleaning in a while, summer is a great time to make an appointment. Come visit our team at High Point Dentistry before you embark on your vacation and enjoy your trip knowing that your oral health is in tip-top shape!